📿Materials and Intent: 3D Mixed Media Assemblage Embellishment and Personal Meaning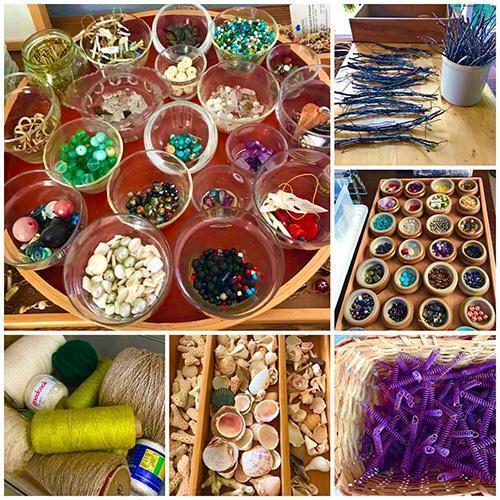 Saturday, December 4 | 10:30 am – 4:30 pm | Class Fee: $75 + $20 Material Fee | Instructor: Sun Smith-Foret
Spend the day with St. Louis professional fiber artist Sun Smith-Foret, and explore creative possibilities in how to enhance your 3-Dimensional artwork (functional and/or decorative). During the workshop we will work in mixed media sculpture with multiple elements.
The objective of the class is to combine elements and techniques in a new way using your own inspiration by incorporating wood, beading, embroidery, etc., in doll making, vessels, wearables, etc. Specific exercises will be offered and class time will accommodate incorporating your personal artwork and demonstrate how to embellish your objects. Instruction will be both for the group as a whole and also individualized for each student. Participants can bring samples of their own work in crochet, knitting, weaving, embroidery, needlepoint, basketry techniques like knotting, twining, coiling for incorporation or source. Buttons, ceramic elements, ribbons, notions, etc., are suitable.
Bring examples of your own work that you wish to alter or embellish or build something new. Adornment materials provided but students are encouraged to bring materials as well that may be unique to their style or have sentiment.
Material Fee: $20 to be paid to the instructor day of class.
Cedarhurst Members enjoy a 10% discount on class fees!