Come experience the magic of
OVER 1 MILLION
holiday lights sparkling at Cedarhurst!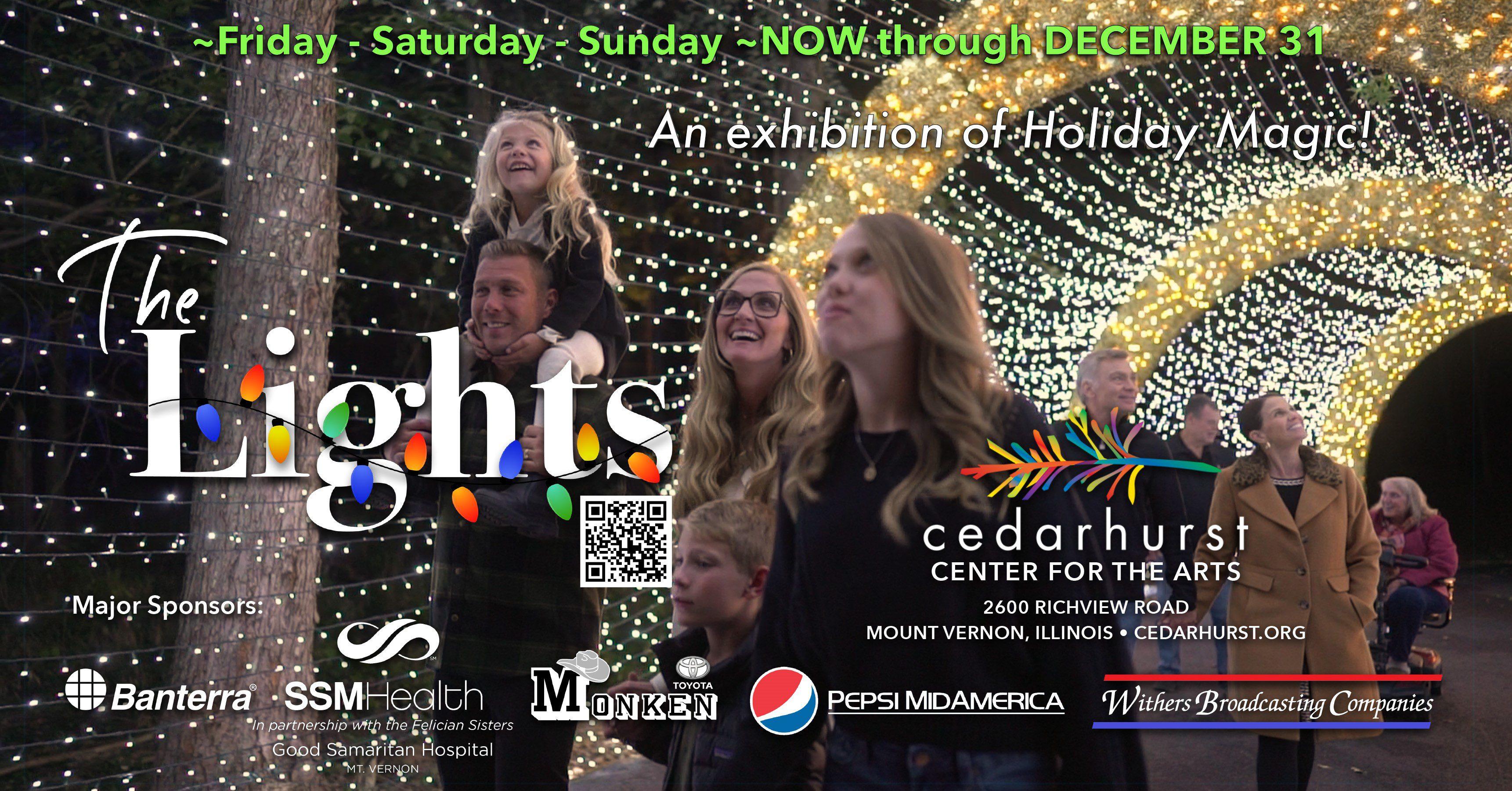 Just over the river and through the woods, The Lights will transform the museum campus into a winter wonderland with 10 dazzling light features installed along a 3/4 mile walking loop designed to highlight the best of the Cedarhurst campus.
From distinct building architecture to the beautiful sculpture park – including open lawns, wooded trails, water features, and thoughtful artworks – there is no better setting to experience the magic of the holidays.
Immerse yourself in the 50-foot Tunnel of Illumination that guides visitors into the wooded walking trails. Feel the festivity emulate from the Fluer de Lights, a floating light installation on the Cedarhurst pond. And enjoy a Classic Christmas at the historic Mitchell House, decorated in traditional fashion. These are only a sampling of the sparkle that's in store at The Lights.
Capture the memories at fun photo stations placed along the walking route – just don't eat the Gingerbread men! There are plenty of other treats available anyway. Roast some s'mores at the fire pits or stay warm with a hot cocoa (adults can add an extra kick!) as you take in the twinkle.
Grab your friends and family – maybe a scarf and some mittens, too – and get ready to wrap yourself in the magic of the season at The Lights!
Entry Times and Tickets:
5:00 to 9:00 PM I Fridays, Saturdays and Sundays
November 19 through December 31, 2022
Closed Christmas Eve and Christmas Day
General Admission – $15 | Cedarhurst Members – $10 (Join Today!)
Children (ages 2 to 10) – $5 | Free admission for children under 2.
Pets are not allowed on the grounds during this event.
Want a VIP experience?
Check out the semi-private fire pit rentals and facility rental options!
For your enjoyment (what's included) at The Lights:
Exhibition of over 1 million holiday lights designed to highlight the best of the Cedarhurst campus.
Fun, festive photo opportunities along the walking route** – bring your camera to capture the memories!
Community fire pits (s'more kits for purchase*) and warming stations.
Option to purchase* seasonal drinks.
Admission to the museum's five art galleries.
Family fun opportunities in the interactive Beck Family Center.
Opportunity to purchase* holiday merchandise and souvenirs – they make great holiday gifts!
Special holiday programs are scheduled on select weekends.
*Cashless event. All major credit and debit cards accepted. No ATM on site.
**Visitors are welcome to bring their own mobility scooters to use.
Accessibility: Cedarhurst's public buildings are accessible and welcoming to individuals with disabilities. The Lights walkable path is a combination of 1/2 mile blacktop surface and 1/4 mile gravel surface, which can be navigated with strollers and most motorized scooters.
Exchange Policy: When requests are made at least 48 hours in advance, ticketholders are welcome to exchange their
tickets for a later date and time. Such exchanges are based on availability. Cedarhurst does not offer refunds.
VIEW THE FULL BROCHURE WITH DETAILS ON OUR SPECIAL HOLIDAY PROGRAMMING: