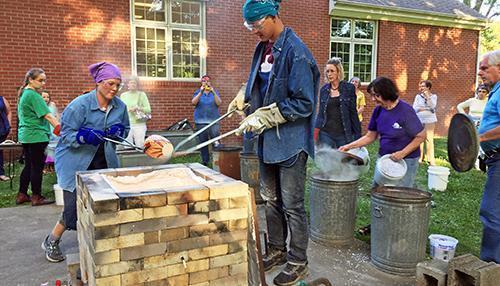 Thursdays, April 7 & 21 (6 to 9 pm) & Saturday, April 23 (11 am to 4 pm) | Class Fee: $50 (includes cost of clay, glazes and kiln firing) | Instructor: Judy Mason
Raku Clay Workshop | 3 Part Process
• Thursday, April 7 – Wet Clay Night | 6:00 – 9:00 pm
• Thursday, April 21 – Glaze Night | 6:00 – 9:00 pm
• Saturday, April 23 – RAKU Firing! | 11:00 am – 4:00 pm
Raku is an exciting, action-packed outdoor firing experience! This is a great opportunity to learn the basics of working with clay and witness the magic of an ancient art form.
Thursday, April 7 – instructor Judy Mason will teach students how to create a clay pot using hand-building methods (more experienced clay artists will be guided independently on projects of their choosing.)
Thursday, April 21 – students will learn how to glaze and decorate their pot and prepare for the firing on Saturday, April 23. When the outdoor kiln is 'peaking,' at over 1800 degrees, the molten red pieces are grabbed out of the kiln with tongs and placed in nearby containers filled with combustible materials. The smoke and flames create metallic colors and deep, black charcoal effects on the surface of the pottery. After cooling, the surfaces are cleaned to reveal the magic of the glazes and will be ready to take home late Saturday afternoon.
Cedarhurst Members enjoy a 10% discount on class fees!