Mediums offered: Clay, Watercolor, Action Painting, Glass Fusing, Printmaking, Collage, Drawing, Tie-Dye

ADULTS:
• 2 hour art activity | $25 per person (6 person minimum required) | $50 per person for Glass Fusing (due to cost of supplies)
CHILDREN:
• 45 min-1 hour art activity | $10 per person (ages 12 and under) (8 person minimum required)
• 2 hour art activity | $25 per person
If an adult wants to participate in the art activity during a child's party they will also need to pay the same participation fee.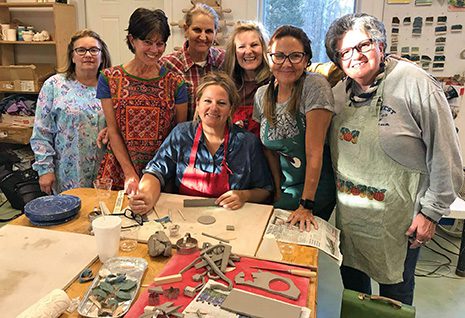 Participants, or the Party Host, are allowed to bring light snacks and beverages to the art party. We ask for the group to make plans to eat birthday cake, and open presents at an offsite location.
Parties need to be scheduled a minimum of two weeks in advance to the event date. Scheduling is limited based on the Shrode Art Center master calendar and other regularly scheduled classes and events.
A party is officially booked when the minimum number of participants required has been paid in full. 'Add-on's' or additional participants can be paid for one week prior to the event date. This will ensure teachers and the Shrode Art Center time to have enough art supplies ordered and prepared for everyone.
Private Party Refund Policy: There are no refunds on private parties unless the class has been cancelled by the Director of the Shrode Art Center. (i.e. teacher illness, act of God, etc.) The number of participants originally booked will still need to be paid in full even if some persons did not attend the event.
To schedule a private art party contact:
Carrie at 618.242.1236 ext. 249 | carrie@cedarhurst.org or Tracy at 618.242.1236 ext. 248 | tracy@cedarhurst.org