Cedarhurst Center for the Arts, an activity of the John R. and Eleanor R. Mitchell Foundation, is a private, not-for-profit arts organization located at the crossroads of southern Illinois in Mt Vernon. It is supported by earned and contributed income from generous individual and corporate supporters.
Cedarhurst is best known for its significant collection of late 19th and early 20th century American paintings, exhibitions featuring regional and international artists, a 80 acre sculpture park, and an annual Art & Craft Fair held the weekend after Labor Day.
The mission of the John R. and Eleanor R. Mitchell Foundation is to generate enthusiastic participation in and support for the visual and performing arts in Mt. Vernon, southern Illinois and the surrounding region, and to provide opportunities for enjoyment of the arts and increased awareness, understanding, and appreciation for the arts.
FOR VISITORS WITH DISABILITIES
Cedarhurst Center for the Arts strives to create an inclusive environment for all visitors. The Mitchell Museum, Shrode Art Center, and the Schweinfurth House have accessible facilities and at least one entrance that is accessible to visitors with limited mobility. Staff members are always available to answer visitor questions about accessibility. Please direct your questions to the staff at the information desk, to the left as you enter the Mitchell Museum building or the attendant on duty at The Shrode Art Center.
DIRECTIONS
FROM INTERSTATE 57
Take Exit 95 (Mt. Vernon) and travel east on Highway 15 (Broadway). At 27th Street (Cedarhurst Drive) turn left (north) and proceed to 2600 Richview Road. Turn right (east) on Richview Road. Turn left at the Main Gate for parking. Cedarhurst is approximately 4.78 miles from Interstate Exit 95.  
FROM ILLINOIS ROUTE 37
Turn west on Oakland Avenue, which becomes Richview Road at the 12th Street intersection. Cedarhurst is on the north side of Richview Road. Turn right at the Main Gate for parking. Cedarhurst is approximately 0.62 miles from the Oakland Avenue/Route 37 intersection.
HOURS
YEAR-ROUND:
Tuesday – Saturday: 10:00 am to 5:00 pm 
Sunday: 1:00 to 5:00 pm
EXTENDED HOURS:
Memorial Day to Labor Day
Thursday: 10:00 am to 8:00 pm
Closed each Monday and national holidays
SPECIALS & DISCOUNTS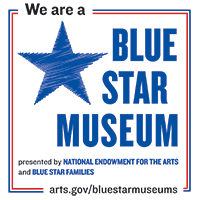 Members of Cedarhurst enjoy free admission to all gallery exhibitions as well as discounted rates for programs, events and art classes.
Free Thursday applies to gallery exhibitions that carry an admission charge.
We are a Blue Star Museum! What is a Blue Star Museum? 
It is a collaboration among the National Endowment for the Arts, Blue Star Families, the U.S. Department of Defense (DoD), and more than 2,000 museums across America to offer free admission to the nation's active duty military personnel including The National Guard and U.S. Army Reserve and their families each summer.
The 2021 program will begin on Saturday, May 15, 2021, Armed Forces Day, and end on Monday, September 6, 2021, Labor Day.
ADMISSION
Admission to the Cedarhurst Center for the Arts campus is free of charge. Some gallery exhibitions and events may carry an admission or event charge. Donations always welcome.
CONTACT US
Phone: 618.242.1236 Fax: 618.242.9530 
Email: mitchellmuseum@cedarhurst.org
Location Address: 2600 Richview Road | Mt. Vernon, IL 62864 
Mailing Address: P.O. Box 923 | Mt. Vernon, IL 62864
TOURS
Cedarhurst Center for the Arts offers free staff/docent led tours that focus on current exhibitions as well as the Permanent Collection, the Goldman-Kuenz Sculpture Park and the beautiful buildings and grounds at Cedarhurst. Our volunteer docents are qualified professionals, many with an education and or art background. Tours are designed to include concepts and skills appropriate to the visiting student or adult group. Docent led tours are available upon request for groups of 10 or more and must be scheduled at least 2 weeks in advance. Please complete the appropriate form to request a tour: School/Youth Tour Request Form or Adult Tour Request Form. Applicable gallery admission fees apply. For additional information, please call 618-242-1236 ext 248 or email tracy@cedarhurst.org.
NEARBY ATTRACTIONS & LODGING
Mt. Vernon, home to Cedarhurst, is known as the Heartland of Hospitality in southern Illinois for a good reason. Here you'll find everything you need with over 1100 hotel rooms including accommodations for large groups and conventions. In addition to local shops, Mt. Vernon's Times Square Mall offers a variety of shopping, including department and sports stores, and the Rend Lake College Marketplace offers a variety of discount stores, including a golf outlet. Other attractions in the Mt. Vernon area include the Appellate Courthouse where Abraham Lincoln represented clients, The Aquatic Zoo, the Jefferson County Historical Village, and C. E. Brehm Library with its impressive genealogy collection. Outdoor enthusiasts will enjoy acres of public parks and golf courses. Rend Lake, a 19,000-acre recreational complex, offers visitors a multitude of activities, including golfing, swimming, boating, camping, hiking, fishing, and hunting. For more information on activities and events in the Mt. Vernon and surrounding area, including available lodging, click on the links provided below for more information:
Receive a special Cedarhurst rate when you stay with one of our hotel partners.
Call and mention Cedarhurst or book online by clicking one of the images below: