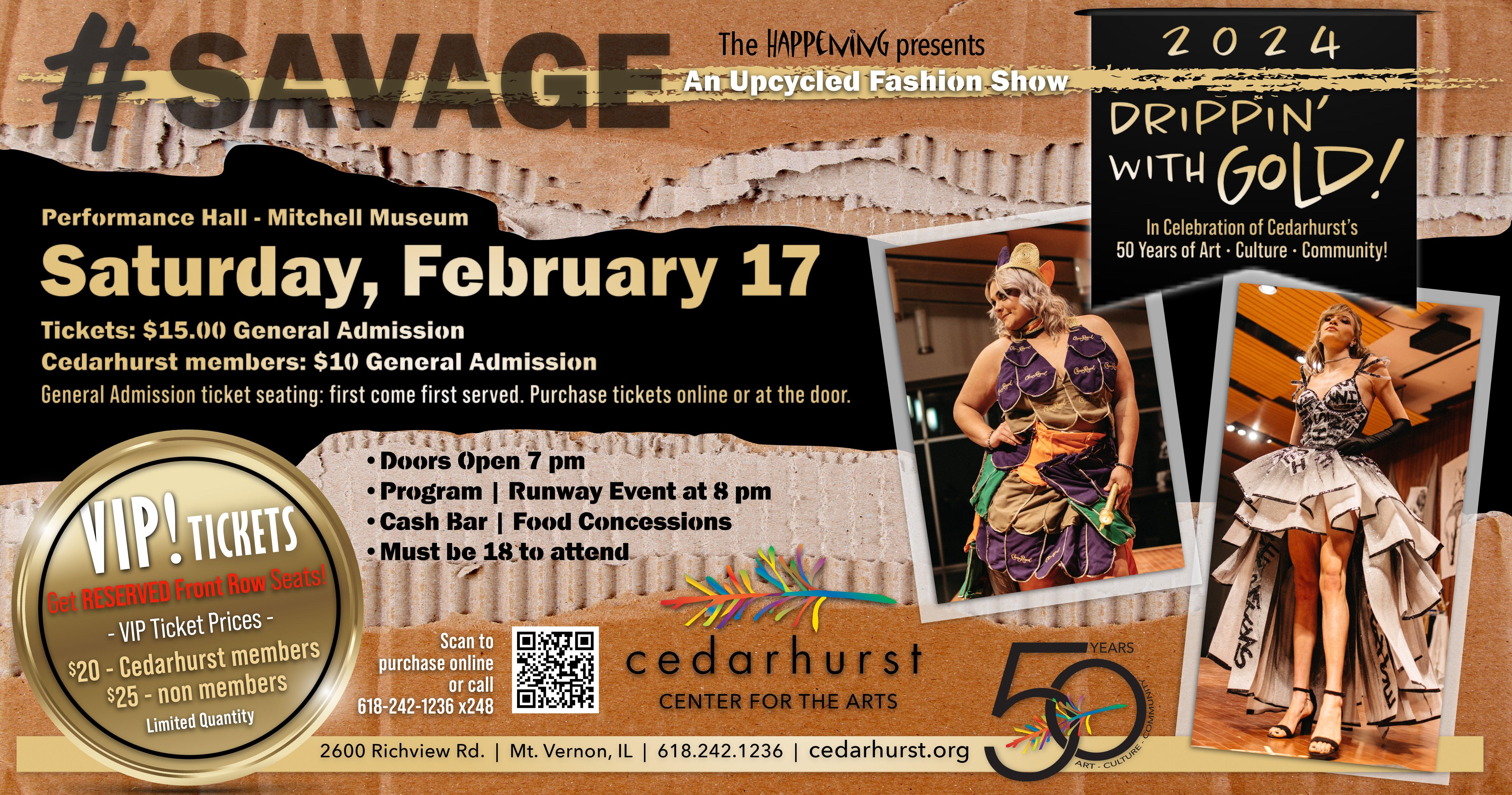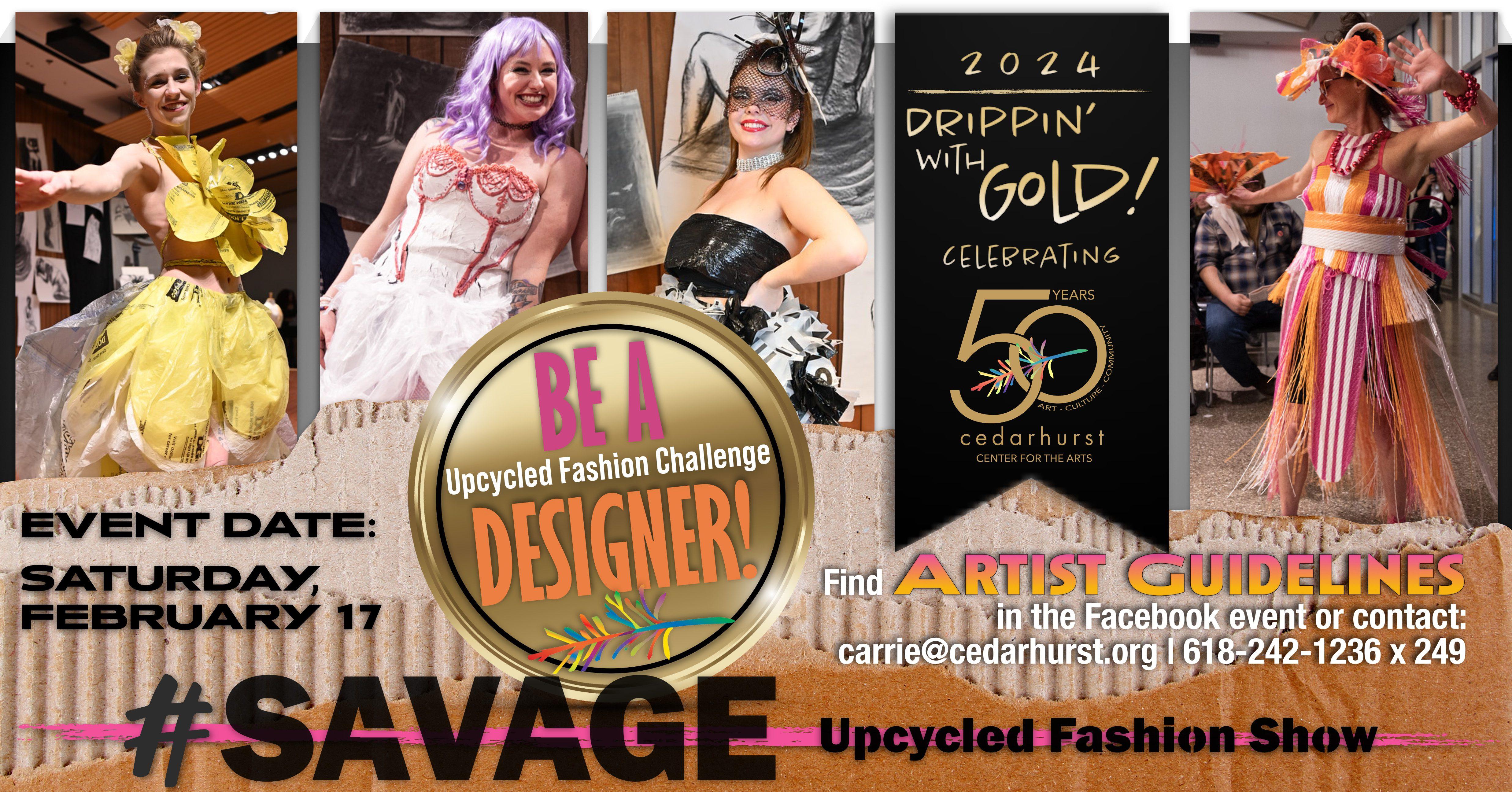 # SAVAGE 2024 Drippin' with Gold!
SAVAGE has become one of Cedarhurst's most popular and electrifying events! This will be the sixth year for The Happening's upcycled fashion challenge.
Click to see photos from our 2023 event
Artists from the community are invited to create an ensemble for the runway, created from recycled or upcycled materials. The creativity that rocks the runway is jaw-dropping and inspiring! Don't miss this year's show on Saturday, February 17, 2024.
• Doors Open at 7:00 pm
• Fashion Show at 8:00 pm
• Photo Ops and Music to follow
• Must be 18 to attend
2024 Drippin' with Gold
In celebration of Cedarhurst's 50th Anniversary, The Happening Committee presents a gold themed recycled fashion show in honor of the "golden anniversary." The gold theme will be carried through décor, the stage backdrop as well as food and drink specials. Designers are encouraged to embrace the theme as well with their runway ensembles but it is not a requirement. All concepts/ideas/inspiration are welcome on the runway. This year SAVAGE will be dripped out with gold!
GENERAL ADMISSION ticket seating – first come first served
Admission: $10 members of Cedarhurst | $15 non-members
VIP TICKETS (limited quantity) – Reserved Front Row Seats! VIP Admission: $20 members of Cedarhurst | $25 non-members
BE A DESIGNER or MODEL ARTIST GUIDELINES
We want YOU to be part of this year's upcycled fashion show!
This is a community event and we invite everyone, who is interested in participating, to join the fun! The SAVAGE fashion show is a great opportunity to share your creativity by creating an ensemble, made of recycled or upcycled materials to be modeled down the runway.
We need Models and Designers. For details on how to get involved click the link below to read our Artists Guidelines. Or contact Carrie Stover, Director Shrode Art Center and SAVAGE Coordinator. 618-242-1236 ext. 249 carrie@cedarhurst.org
The deadline to sign-up to be part of the show is Tuesday, January 30th, 2024.
There will be an informational meeting about the event on Thursday, January 18th. 6:00-8:00 p.m. We will share details about the runway show and have a time to answer questions. The 'SAVAGE Meet & Greet/Material Swop' is also a great time to play match-maker and be sure all models have a designer and vice versa. Click the link below to join the Facebook event.
Looking for inspiration? Click to see photos: 2023, 2022, 2020, and 2019.
THE HAPPENING AT CEDARHURST
This volunteer-driven program is focused on bringing people together for contemporary art events that are meant to be unique, cultural, and fun. Events are held quarterly and attendees must be at least 18 years of age. The Happening committee aims to blur the lines of what one might traditionally think of when experiencing art or visiting an art museum.
Popular events have included the Anything But Clothes Fashion Show, Blues & Brews, and the Rocky Horror Dinner Show! Click here to to view our events on Facebook.