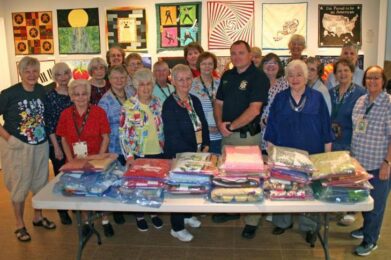 The Cedarhurst Quilters are a busy and motivated group that meets on the first Thursday of each month at Cedarhurst for a day of community and sharing.
9:00 a.m. Mini-lesson – Members enjoy a hands-on time to learn a new technique or share their quilting skills.
Break – Bring a sack lunch and enjoy the conversation
12:30 p.m. Organizational Meeting – Club leaders direct club business, share ideas and information about quilting, and announce area quilt exhibits and classes. The meeting ends as members have the opportunity to share their Show-And-Tell projects. New members are welcome!
The Cedarhurst Quilters create Community Service Quilts for by our local police and fire departments to give to families who have lost their homes or are in dire need. In addition, they showcase their skills in the Annual Gathering of Quilts Exhibit at Cedarhurst every autumn. In conjunction with the exhibit, they organize the educational Bed Turning Program, where the unique stories of antique and modern quilts are shared.
This, and all of the Cedarhurst Groups & Clubs, is a membership perk. To become a member click here. For more information contact Carrie Stover, Director of Shrode Art Center, at 618-242-1236 ext. 249 or email carrie@cedarhurst.org.