2023 ART & CRAFT FAIR EXHIBITING ARTISTS
[BOOTH 37] Michelle Aitchison | Creal Springs, IL | PAINTING
hyperspacestudios.com/
[BOOTH 24] Don and Michael Asbury | Herrin, IL | JEWELRY
[BOOTH 34] David Bailey | Alton, IL | JEWELRY
facebook.com/InspiredJewelryArt
[BOOTH 72] Michael Barry | St. Charles, MO | PHOTOGRAPHY
mtbarrystudios.com/
[BOOTH 22] Tina Bollman | Marion, IL | WOOD
facebook.com/southernillinoischainsawcarving
[BOOTH 57] Alex Bolton | Bolingbrook, IL | CERAMICS
[BOOTH 32] Alison Bozarth | St. Louis, MO | WATERCOLOR
alisonbozarthart.com/
[BOOTH 52] Shiela Cahill | Owensville, MO | GLASS
www.etsy.com/shop/WindowtomyWorldGlass
[BOOTH 2] Trish Caudill | Louisville, KY | CERAMICS
trishsdishesandmore.com/
[BOOTH 30] Kris and Al Clement | Springfield, MO | CERAMICS
ClementClayworks.square.site
[BOOTH 8] Jane Cook | Bonne Terre, MO | JEWELRY
janecookcreate.com
[BOOTH 4] Sean Corner | Wichita, KS | SCULPTURE
facebook.com/Sean-Corner-Sculptures-103588951426245/
[BOOTH 3] Emily Cross | St. Louis, MO | PAPER
www.etsy.com/shop/CrossCutPapers?ref=profile_header
[BOOTH 44] Michael Czerwonka | Hoyleton, IL | DRAWINGS
facebook.com/mike.czerwonka.9
[BOOTH 66] Larry Drake | Nashville, TN | JEWELRY
www.etsy.com/shop/BoulderParkGems
[BOOTH 59] Kent Durk | Rocheport, MO | PHOTOGRAPHY
www.360icon.com/home.html
[BOOTH 5] Suzanna Fairley | Lerna, IL | PAINTING
facebook.com/countyclassicoil/
[BOOTH 21] Molly Federici | Mt. Vernon, IL | TEXTILES
[BOOTH 62] Anna Fleckenstein | Wilmington, OH | CANDLES
https://www.facebook.com/littlecreekcandles
[BOOTH 77] Carolyn Ford | Benton, IL | JEWELRY
[BOOTH 42] Cherri Fryer | Hallettsville, TX | CERAMICS
fryerworks.com/gallery
[BOOTH 28] Roxanne Gabbard | English, IN | GLASS
facebook.com/gabbard.glass.3
[BOOTH 1] Tamara Gasich | St. Louis, MO | CANDLES
facebook.com/people/Kenyels-Hand-Poured-Candles/100063629706119/?paipv=0&eav=AfaoZXBJtNkrbpPkaqFOXQwXnFljAJz267ORVJVpeFoJ8q6wE__nuK-iO4MY-D3N2fQ&_rdr%2520
[BOOTH 46] James Greer | Chillicothe, IL | HOLIDAYS
snowmanlady.com
[BOOTH 29] David Hammond | Goreville, IL | PHOTOGRAPHY
davehammondphoto.com
[BOOTH 13] Juan and Michelle Hasenour | West Terre Haute, IN | WOOD
[BOOTH 20] Trinda Heitmeyer | Mt. Vernon, IL | SOAP
facebook.com/regalfrogsoap/
[BOOTH 54] Crystal Hemby | Mt. Vernon, IL | HONEY
hembeezhoney.com
[BOOTH 48] Cheryl Henson | Cisne, IL | TEXTILES
[BOOTH 7] Dianne Hill | New Burnside, IL | TEXTILES
facebook.com/rosehillcreations/
[BOOTH 33] Lori Huddleston | Decature, IL | JEWELRY
lulusdesignsjewelry.com/
[BOOTH 6] Jane Hudson | Carbondale, IL | HOLIDAYS
[BOOTH 55] Molly Hug | Makanda, IL | JEWELRY
www.etsy.com/shop/flowerinspired
[BOOTH 36] Carleen Johns | Brownwood, MO | JEWELRY
facebook.com/profile.php?id=100063080058039
[BOOTH 75] Amy Jones | Paris, TN | JEWELRY
www.etsy.com/shop/TwylaDesignsStudio
[BOOTH 41] Brady Kesner | Highland, IL | PHOTOGRAPHY
bradykesner.com/
[BOOTH 71] Sheila Lamberson | Bloomington, IL | PAINTING
sheilalamberson.com
[BOOTH 12] Alaina Marie Light | Brook, IN | PAINTING
arlainamarie.wordpress.com/
[BOOTH 60] Megan Litts | Benton Harbor, MI | PAINTING
maudestudios.com/
[BOOTH 23] John Locus | Collinsville, IL | PHOTOGRAPHY
locusphotoart.com
[BOOTH 16] Emily Mann | Benton, IL | TEXILES
www.etsy.com/people/ydjov4uk?ref=shop_home_header
[BOOTH 69] Steven Martin | Carterville, IL | WOOD
stevenmartinboxes.com/
[BOOTH 18] Erika Moeglich | Fisher, IL | JEWELRY
shopwilderboutique.com
[BOOTH 53 ] Patricia O'Brien | Florissant, MO | TEXTILES
[BOOTH 43] Michelle Ochonicky | Eureka, MO | SCRIMSHAW
StoneHollowStudio.com
[BOOTH 64] John O'Connell | Makanda, IL | PHOTOGRAPHY
johnoconnellphotography.com/home
[BOOTH 68] Calvin Ott | Francisco, IN | DIGITAL ART
[BOOTH 70] Donald Pekarek | Pegram, TN | JEWELRY
[BOOTH 49] Bailey Perigo | Dix, IL | JEWELRY
baysjewelrystore.com/
[BOOTH 61] Sally Perkins | Floyds Knobs, IN | JEWELRY
www.etsy.com/shop/ThistleBePretty?fbclid=IwAR1NoUx0vhqhXQRvY_8QRHmfiBrjZOxPJtVVB35SipX5g8zl_vDDF-LB80k
[BOOTH 39] Cindy and Jim Pierson | Ann Arbor, MI | JEWELRY
[BOOTH 76] Brandon Pollard | Mt. Vernon, IL | PAINTING
[BOOTH 73] Tammy Rice | Lincoln, NE | JEWELRY
tammybjewelry.com/
[BOOTH 47] Kurt Salla | Topeka, IL | JEWELRY
[BOOTH 27] Jeanne Scott | Green Castle, MO | CERAMICS
[BOOTH 19] Joni Scrivner | O'Fallon, IL | WOOD
[BOOTH 25] Brooke Serbousek | Springfield, IL | JEWELRY
wireandwhatnot.com/
[BOOTH 63] George Sharos | Swansea, IL | JEWELRY
oldeworldjewelers.com/Our-Story
[BOOTH 67] Buddy Shaw | New Bloomfield, MO | WOOD
facebook.com/BiggarAndShaw/
[BOOTH 58] Tammy Shaw | Springhill, KS | JEWELRY
www.etsy.com/shop/shawearthcreations
[BOOTH 14] Charlotte Sherrell | Terre Haute, IN | TEXTILES
[BOOTH 38] Cameron Smith and Jan Thomas | Murphysboro, IL | GLASS
artapult.com
[BOOTH 17] Chris Solomon | Cobden, IL | WOOD
clswoodworks.com/
[BOOTH 11] Scott Sternberg | Tremont, IL | PHOTOGRAPHY
scottsfineart.com/
[BOOTH 15] Chester Stogner | Carlyle, IL | WOOD
[BOOTH 31] Tony Treadway | New Harmony, IN | CERAMICS
facebook.com/profile.php?id=100063504794875
[BOOTH 35] Donald Vonderheide | Centralia, IL | WOOD
www.etsy.com/shop/davwoodshed
[BOOTH 56] Kelly Ward | Hatford, KY | WOOD
[BOOTH 74] Madeleine Wiering | St. Louis, MO | PRINTMAKING
papillon-press.com/
[BOOTH 45] Robin Willey | Effingham, IL | CERAMICS
facebook.com/Willey-Pottery-253415824876/
[BOOTH 26] Jamie Wilson | Richland, IN | WOOD
jawwoodworks.com
[BOOTH 40] Mike Woodward | Mt. Vernon, IL | GLASS
[BOOTH 65] Sara Youngblood | Broughton, IL | TEXTILES
facebook.com/thehippiechics
[BOOTH 51] William and Peggy Yudinsky | Carlinville, IL | WOOD
[BOOTH 50] Jeff Yuhas | Pleasant Prairie, WI | CERAMICS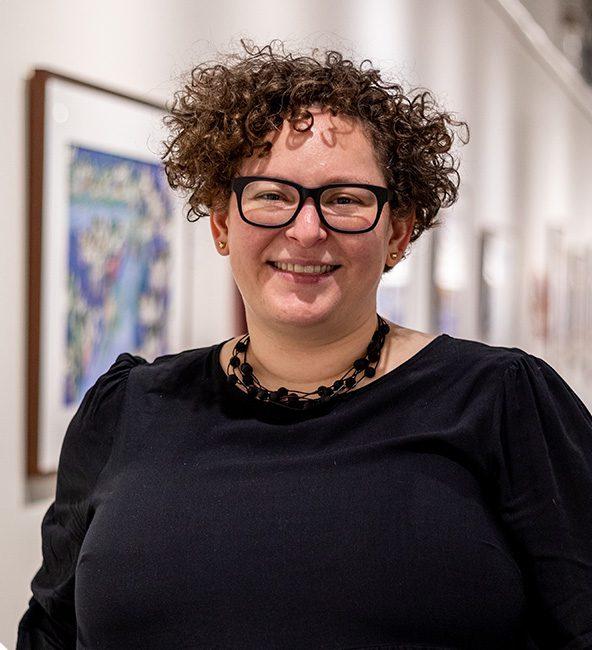 2023 Art & Craft Fair Judge
Jessica is a St. Louis-based curator, arts consultant, and art historian with over 15 years of experience in the museum and gallery field. She's devoted to supporting regional arts, and has worked closely with award-winning artists and organizations to elevate the local arts community.
She has led the art & exhibitions programming at the Foundry Art Centre since 2020. A jack-of-all-trades in galleries and museums, her primary roles are curator of the Foundry's 3600 sq. ft. Main Galleries of rotating exhibitions and organizer of the Foundry's large-scale art events and programs, including the annual Block Party, the Grand Hall Mural Project, and the Foundry's First Friday Series.
After earning her graduate degree in Museum Studies from Southern Illinois University-Edwardsville, Jessica was the assistant curator/registrar of the William & Florence Schmidt Art Center at Southwestern Illinois College in Belleville, Illinois. She followed this 8-year tenure as the assistant curator of visual art for the Angad Arts Hotel in St. Louis' Grand Center, curating the permanent collection and the Hotel's inaugural exhibition year. Prior to joining the Foundry Art Centre, Jessica was an independent consultant and the curatorial director of Houska Gallery in the Central West End, St. Louis.