REGENHARDT GALLERY AT SHRODE ART CENTER
NEW NOUVEAU: A MODERN TAKE ON A CLASSIC STYLE BY NICHOLAS BURKE
May 13 – July 23, 2023
• Exhibit Open:
Tuesday-Saturday 10:00 am – 5:00 pm
Sunday 1:00 – 5:00 pm
• Gallery Admission – Free
GATHER AT THE GALLERIES
Friday, May 12 | 5:00 – 7:00 pm
• Complimentary Bar & Hors d'oeuvres
• Reception Admission: $10.00
Cedarhurst Members – Free
ART CHAT WITH ARTIST
Thursday, June 15 | 6:00 – 7:00 pm
• Art Chat During Thursday Night Live
• Shrode Art Center Regenhardt Gallery
GALLERY SPONSOR:


EXHIBIT SPONSORS: Doug and Debby Kroeschen
EXHIBIT COSPONSORS: Hughey Funeral Home | Kevin and Cheryl Settle
ABOUT THE ART:
Working in the welding shop is a form of meditation for me. I find peace in grinding and welding steel, focusing my attention on the smallest details and leaving my work piece smooth to the touch.
When I first started working with metal, it was to reinforce machinery and construct buildings with right angles and perfect geometry. Now my work has taken on a much more organic look and feel, with natural curves and shapes throughout.
My perception of steel has changed from being a hard rigid material, to one that can be moved and formed like clay with the right tools and temperatures.
I have a deep fascination with nature that is embodied in my work. I enjoy how at different depths of viewing, objects can change from random shapes, into symmetrical geometric patterns. Through applying the fibonacci sequence and forms of fractal geometry, I am able to fabricate complicated works from the building blocks of simpler shapes.
The classic style of Art Nouveau has greatly influenced my work and mindset. This exhibition is my attempt to combine the archetypal whiplashes and organic shapes found within Art Nouveau, and the bold lines and forms recognized in Modern and Contemporary Art.
NICHOLAS BURKE BIOGRAPHY: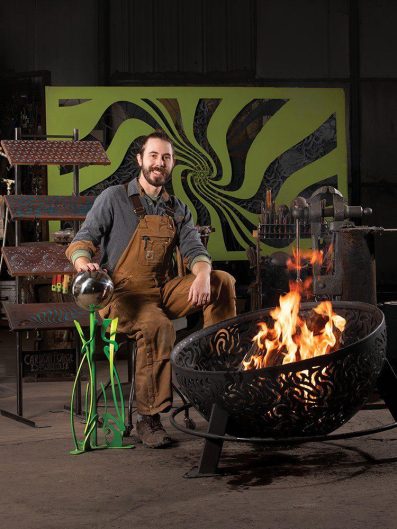 I have lived in the fields and forests of southern Illinois my whole life. My work is largely a reflection of the natural shapes and patterns surrounding my daily life, including family outings foraging for mushrooms, to adventures in the desert and mountains with my wife.
From a young age I have been working with metal in my father's welding shop, cutting welding and manipulating it into desired shapes to serve functional purposes. While attending Rend Lake College, I worked in my uncle's steel frame construction business, laying the foundation for my knowledge of building practices and techniques.
While attending Southern Illinois University Carbondale for Advertising, I became the Design Chief for the Daily Egyptian newspaper. It was at this time that my work shifted into the digital realm of design, writing and color theory.
In 2014, I moved back to McLeansboro to begin work for a local race team that competed on a national level within NHRA and NASCAR. I worked as the Creative Director, designing everything from race car designs and apparel to advertisements and television commercials.
2020 marked the year I set out to carve my own path and started Carbon Forge Design. It is the culmination of my skills obtained in fabrication and design. I was awarded Best of Show in the 2021 Cedarhurst Art and Craft Fair.
I look forward to the future and learning new techniques I can apply to my work.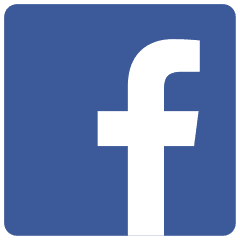 See images of the artists work in the Facebook Photo Album