THE JOURNEY'S VIRTUE: PAINTINGS BY VICTOR WANG
January 17 – February 14, 2021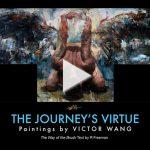 Gallery Sponsor: Hunt and Donna Bonan
Exhibit Sponsor:


Cosponsors: Doug and Debby Kroeschen
GALLERY TALK WITH THE ARTIST: Saturday, February 6 at 12 noon 
ABOUT THE EXHIBIT:
The exhibition of St. Louis artist Victor Wang surveys a themed selection of paintings featuring both new work and rarely seen works curated from his home. 
The principle theme is that of life's journey, where Victor Wang examines personal experiences that in turn could be read as universal essences. Other subjects explored by Wang include the Tang Dynasty, the Peking Opera, bodhisattvas, family, and the major theme of the goddess of freedom allegory.
These subjects are rewritten through Wang's mastery of the oil painting medium. Wang has studied the techniques of such masters as Qi Baishi, Caravaggio, and Titian. Wang's own brush techniques are original and innovative as he combines the oppositions of realism and abstraction. The painterly expressions seen in Wang's brushwork always are used to convey mood, emotion, and his philosophical interpretations of life. Wang deepens his innovative brushwork of realism-abstraction with another opposition, that of the sculptural and the illusionistic. The sculptural build-up of paint, impasto, is paired with the illusionistic power of representing in paint things as they are in real life. Painted realistically, Wang's subjects project convincing illusions of reality on a two-dimensional surface. Throughout Wang's oeuvre we see the complexities of the journey of life unfold before our eyes. 
Born in China, Victor Wang grew up during the Cultural Revolution of 1960-1970. After high school Wang worked two and a half years in a farm labor camp. Afterwards, Wang graduated from Lu Xun Academy of Fine Arts a degree in oil painting. Wang taught painting at Lu Xun for five years. During the late 1980s, Wang was visiting scholar teaching painting at several American universities including Washington University, St. Louis and the University of Illinois Urbana-Champaign. After the Tiananmen Square Massacre of 1989, Wang brought his family to America. Since 1990, Wang has been a professor of art at Fontbonne University, St. Louis. The paintings of Wang may be found in many collections around the world, and he is represented by several galleries, including Duane Reed Gallery, St. Louis.