Past – Regenhardt Gallery at Shrode Art Center: Active Meditations: Oil Paintings by Michele Wortman
ACTIVE MEDITATIONS: Oil Paintings by Michele Wortman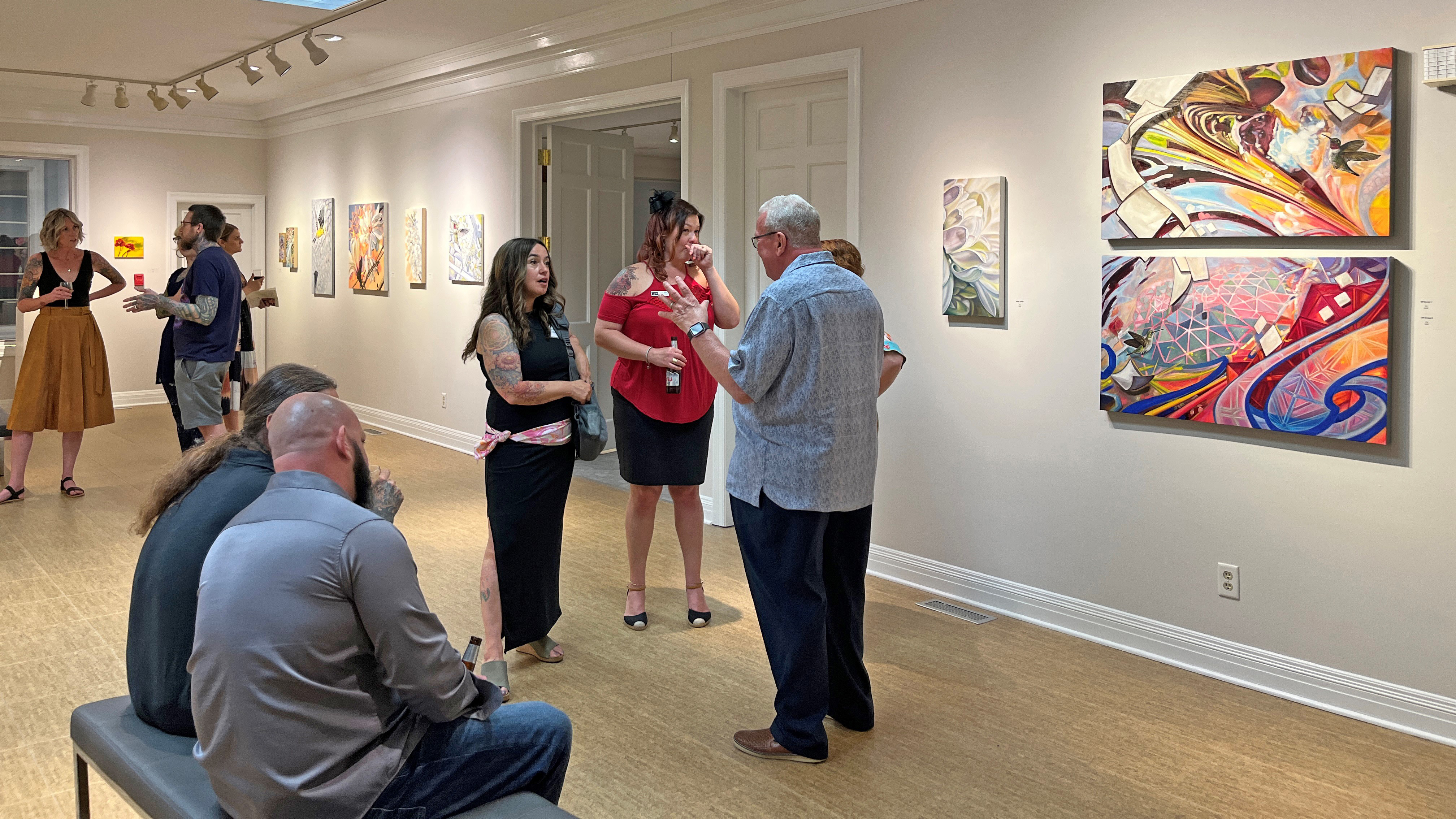 May 15, 2022 – July 24, 2022
GALLERY SPONSOR:
EXHIBIT SPONSORS: Cynthia Jones – Financial Advisor | Toni Smith
• Members' Preview Reception: Saturday, May 14 | 6:30 – 8:30 pm
• Preview Reception Admission: $5.00 | Cedarhurst Members – Free
• Exhibit Open: Tuesday – Saturday 10:00 am to 5:00 pm | Sunday 1:00 to 5:00 pm | Free Admission
• Art Chat with artist Michele Wortman (during TNL): Thursday, June 23, 2022 | 6:00 pm
• 'The Art of Tattooing' featuring artists Guy Aitchison and Michele Wortman: Saturday, July 9, 2022 | 6:00 pm
MICHELE WORTMAN – ARTIST STATEMENT:
The act of art is not still. I move my body, my arm, my position, and work in a very fluid manner. It's interesting to think of creativity as an active meditation since action and mediation seem like opposite notions, yet the act of art can unite these two into practice.
When I paint, I am contemplating and representing my observations. It is a present, in-the-moment experience. I notice the color of paint, the brush in hand, and how it responds to the surface as it glides across, leaving its mark as a recording of the moment. The ambiance of the room I work in reveals further sensory input. I smell the fragrance of hyacinth mixed with the scent of freshly poured oils as rhythmic trance music echoes through the space. My thoughts drift and come back to what's in front of me. I am the observer taking note.
Nature is my retreat and where I find inspiration. Flowers, birds, and natural elements are symbolic representations, while abstracted geometries behind them co-mingle, indicating a deeper contemplation of physical reality and inward exploration. I like to imagine how space is occupied and often incorporates flow and motion. My subjects range from imaginative to still-life, using color groupings from minimal to bold.
The physical is our own reality which is what we see. The deeper contemplation into abstraction is about where the mind takes you, which is different for everyone.
My work is intuitive, and its meaning reveals itself along the way. I want the viewer to form a personal experience with the art and for that to be an active meditation through their unique lens.
This can be helpful in learning to appreciate the little moments, be more present and find inner peace without needing to sit still.
ARTIST BIOGRAPHY:
Michele Wortman was born in Chicago, Illinois. She first became interested in art at the age of six when her aunt introduced her to painting. Michele majored in Art at Lane Tech and then went on to study Painting at the School of the Art Institute in Chicago.
Though Michele spent time in art school, the bulk of her education came from continuing to explore and learning from experience. In the mid 90's she moved with her partner Guy Aitchison to the countryside of southern Illinois to get away from city life and focus more on art.
Her work changed as she did. This was partially informed by becoming a tattoo artist and focusing more on a particular aesthetic. With both tattooing
and painting, she asked herself, "what do I want to look at?"
The question shaped the subjects she focused on and the use of color and mood. As the two mediums merged, they contributed to each other in approach, intent, and expression.
Micheles' art has appeared in various publications over the years. In addition, she has enjoyed doing live painting performances with Alex and Allyson
Grey and her husband Guy Aitchison. Her work has been shown in LA, NYC, and Chicago.