REGENHARDT GALLERY AT SHRODE ART CENTER
LUCA CRUZAT: THE THREAD THAT BINDS
January 15, 2023 – February 12, 2023
GALLERY SPONSOR:


EXHIBIT SPONSOR: Larry Sidwell
• Members' Preview Reception: Saturday, January 14 | 6:30 – 8:30 pm
• Preview Reception Admission: $5.00 | Cedarhurst Members – Free
• Exhibit Open: Tuesday – Saturday 10:00 am to 5:00 pm | Sunday 1:00 to 5:00 pm | Free Admission
• Gallery Talk with Artist Luca Cruzat | Saturday, January 14, 2023 | 7:30 pm
About the Artist: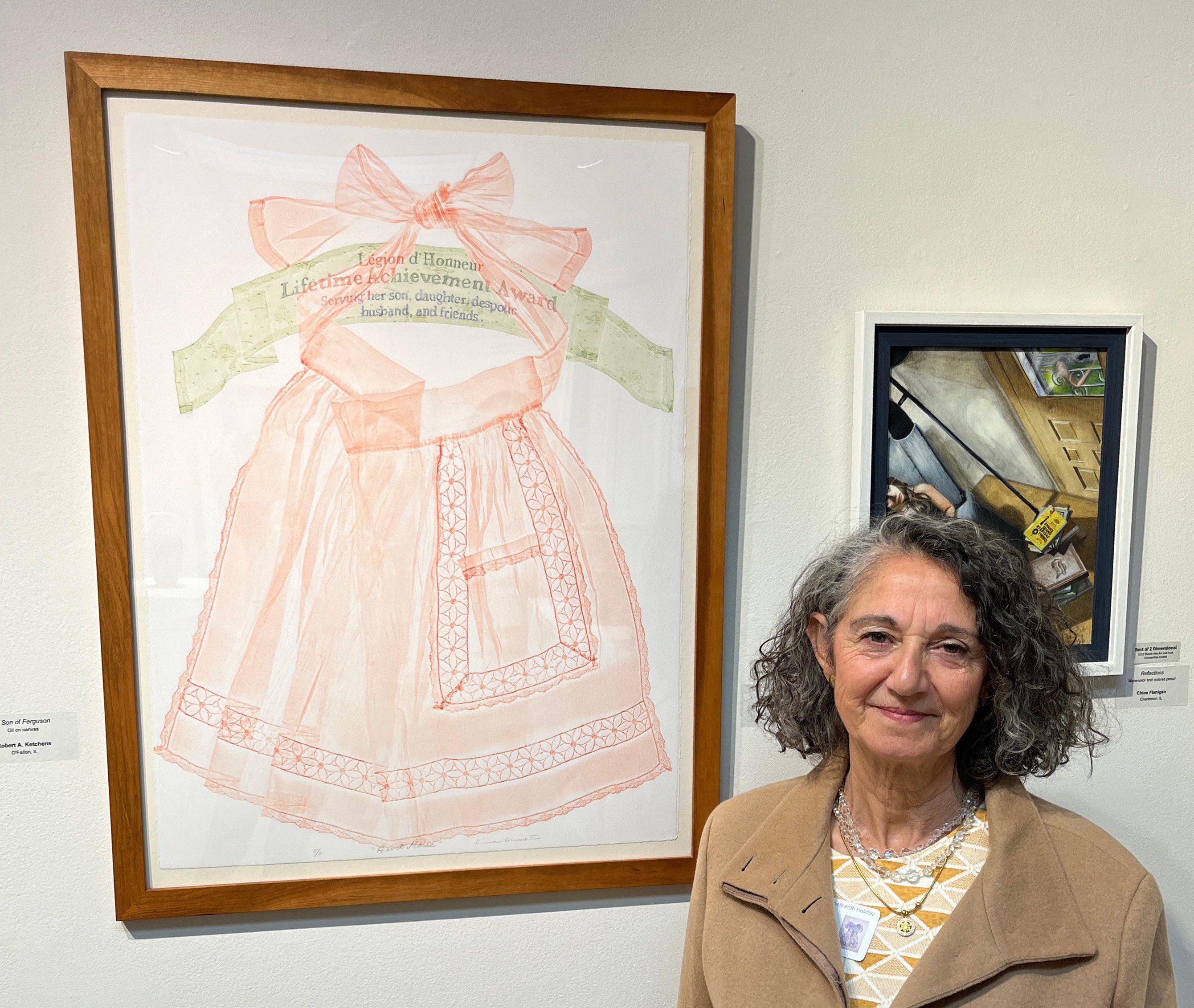 Cruzat is a southern Illinois artist whose subject matter emerges from close, personal observations and engagement with the ordinary. She was originally born in Chile and moved to Carbondale, IL in 1988. She has a master's degree in French (1993). She works as a French and Spanish private instructor at present. Luca was a lecturer at SIU, French department from 2005 to 2007. Luca went on to study art at SIU where she received her MFA in Printmaking (2006). Her artwork has been exhibited internationally including Hong Kong, Germany, England, Chile, and USA. Focusing on the human experience and what surrounds her life, Luca creates collagraph prints using found objects such as aprons, clothing, thread and hair. She won Best of Show in the 2022 Shrode Fine Art and Craft Competition. There will be multiple themes shown from her bodies of work as well as an installation of sculptural paper kites. www.lucacruzat.com
Luca Cruzat Autobiography:
I was born in Chile, into a family of 10. Having learned how to sew at a young age and having made many of my clothes as I grew up, I appreciate a garment's construction, a very precise art of making. Later, my studies in architecture taught me to work with space.
The hardship that my country, Chile, went through during the military coup in 1973, and the subsequent 17-year dictatorship, shaped my worldview on humanity. I was in an environment where violence, censorship and severe restrictions of every kind happened. Self-censorship quickly became a survival tool. It has been a process for me to overcome it.
I taught French until I moved to the United States, in 1988. It was in 2003 when I decided to concentrate my attention and time on art. I enrolled in the MFA program at Southern Illinois University. Since graduation in 2006, I have been working at my studio, located in the historical neighborhood of Murphysboro, IL., and have participated in numerous exhibitions.
The year 2022 my work was exhibited during Art at the Airport, Quad Cities International Airport Gallery, Shrode Fine Art and Craft Competition Exhibit at Cedarhurst Center for the Arts, Mount Vernon, IL. Juror, Dick Dougherty, selected my work and was awarded Best of Show. I also exhibited at the PSAD International Juried Print Biennial, Paducah School of Art and Design, Paducah, KY. Layers of Ink at Saint Louis Artists' Guild, and I was part of the 2022 Mid America Print Council Juried Members' Exhibition hosted by the Kent State University, OH