REGENHARDT GALLERY AT SHRODE ART CENTER
SHRODE FINE ART & CRAFT COMPETITION EXHIBIT
February 26, 2023 – April 30, 2023
GALLERY SPONSOR:  


EXHIBIT SPONSORS:  John and Judi Hundley, Sharp-Hundley, P.C.  |  Bernard and Naomi L. Podolsky Charitable Trust
• Exhibit Open: Tuesday – Saturday 10:00 am to 5:00 pm | Sunday 1:00 to 5:00 pm | Free Admission
• Fine Art & Craft Art Chat: Moderated by Carrie Gibbs – Director of Shrode Art Center | Sunday, April 30, 2023 | 1:30 pm 
About the Exhibit:
The Shrode Fine Art and Craft Competition and Exhibition is an annual exhibit open to all artists 18 years of age and older living in southern Illinois, south of Interstate 70, including Charleston, IL. Artists may enter a variety of media including painting, drawing, printmaking, clay, fiber, mixed media, wood, fine jewelry, metal, and sculpture. There are five prestigious awards: Best of Show ($400), Best of 2-Dimensional ($250), Best of 3-Dimensional ($250), 2 Honorable Mention ($175 each), and
4 Merit Certificates.
This year 175 works of art were submitted for judging and 39 works were chosen for the exhibit by Duane Reed, our guest judge.
Duane Reed opened his gallery in 1994 where he has exhibited and represented successful contemporary artists such as Michael Eastman, Jun Kaneko, Joseph Piccillo, Albert Paley, Wendell Castle, Dale Chihuly and Rudy Autio. He has over 20 years of professional experience in the art world and is nationally regarded in multi-media art. Reed possesses a passionate commitment to the representation of national and international artists with special attention to introducing innovative artists working in ceramics, glass and fiber.
Exemplary of his expertise, Duane has curated over 300 exhibitions both at his gallery as well as others and has lectured on a variety of art topics and includes memberships with the Renwick Gallery Caucus, The Mint Museum's Founders' Circle, Contemporary Art Museum, St. Louis and AIDA (Association of Israeli Decorative Arts). He is a former trustee of the American Craft Council.
Judge's Statement: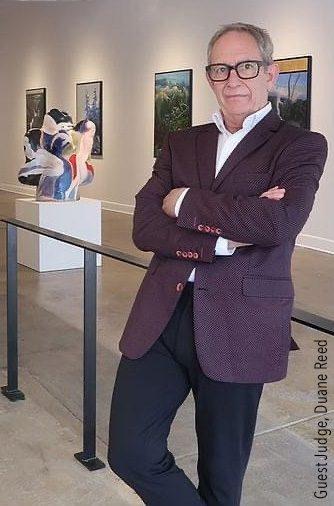 I was thrilled to have received the request from Carrie Gibbs, Director of Shrode Art Center to consider jurying the 2023 Shrode Fine Art and Craft Competition Exhibit.  While studying 175 works of art, it quickly came to me that this exhibition could only be defined as a celebration of the abundance of talent in the defines of what is known as Southern Illinois. Of special note is the fact that I grew up in the shadow of what was the Mitchell Museum and can attribute my grandparents interest in the institution as a catalyst for my future.
Representing such a broad and diverse region of people with many different viewpoints and approaches to the arts, it is challenging to stand out and embrace one's own style and artistic voice. That's part of the true pleasure in being exposed to such a wide range of painting and craft approaches. The one thing that connects everything is the passion and enthusiasm for the visual arts.
Determined and plotted brush and pen strokes in familiar visual terms stand next to energetic explosions of line and color or whimsy and contemplation. These may seem like opposites; however, the same element of creativity and engagement is clearly present.
I chose "Turn Away" for the meticulous attention paid to both the craft of papermaking as well as the dramatic image that appears "modernized" through what may be a nod to pixelation and color placement. The brash and assertive perspective of the self-portrait eating a tomato is both whimsical and arrogant with a large dose of attitude. I was instantly drawn to it.
"King Francisco" and "Queen Marsala" are both humorous and accomplished, adding a certain formal characterization that "just isn't right".  "Monsters" and "Purgatory" are timely and provocative statements that cause one to think of current times and the human condition. "River Ruins" and "Elevators" take something we either don't usually find beautiful or particularly interesting and give them a rebirth that is both powerful and engaging.
Unfortunately, it is impossible to include as many works as I'd like. Space typically becomes our nemesis, defining the limitations to the number of pieces in an exhibition. However, it is obvious that the talent in the region is abundant, and a celebration is in order.
My thanks to Cedarhurst Center for the Arts, the Shrode Art Center, Carrie Gibbs, Tracy Schilling and a special thanks to all of the artists who submitted work and continue to create and share their talent. Being surrounded by art is synonymous with being surrounded by life.