REGENHARDT GALLERY AT SHRODE ART CENTER
SHRODE PHOTOGRAPHY COMPETITION EXHIBITON 2022
October 23, 2022 – December 31, 2022
GALLERY SPONSOR:
EXHIBIT SPONSORS: Doug and Debbie Kroeschen
• Members' Preview Reception: Saturday, October 22 | 6:30 – 8:30 pm
• Preview Reception Admission: $5.00 | Cedarhurst Members – Free
• Awards Announcement | Saturday, October 22, 7:00 pm in the Mitchell Museum
• Exhibit Open: Tuesday – Saturday 10:00 am to 5:00 pm | Sunday 1:00 to 5:00 pm | Free Admission
• Art Chat with Carrie Gibbs, Shrode Art Center Director | Saturday, December 31, 2022 | 3:00 pm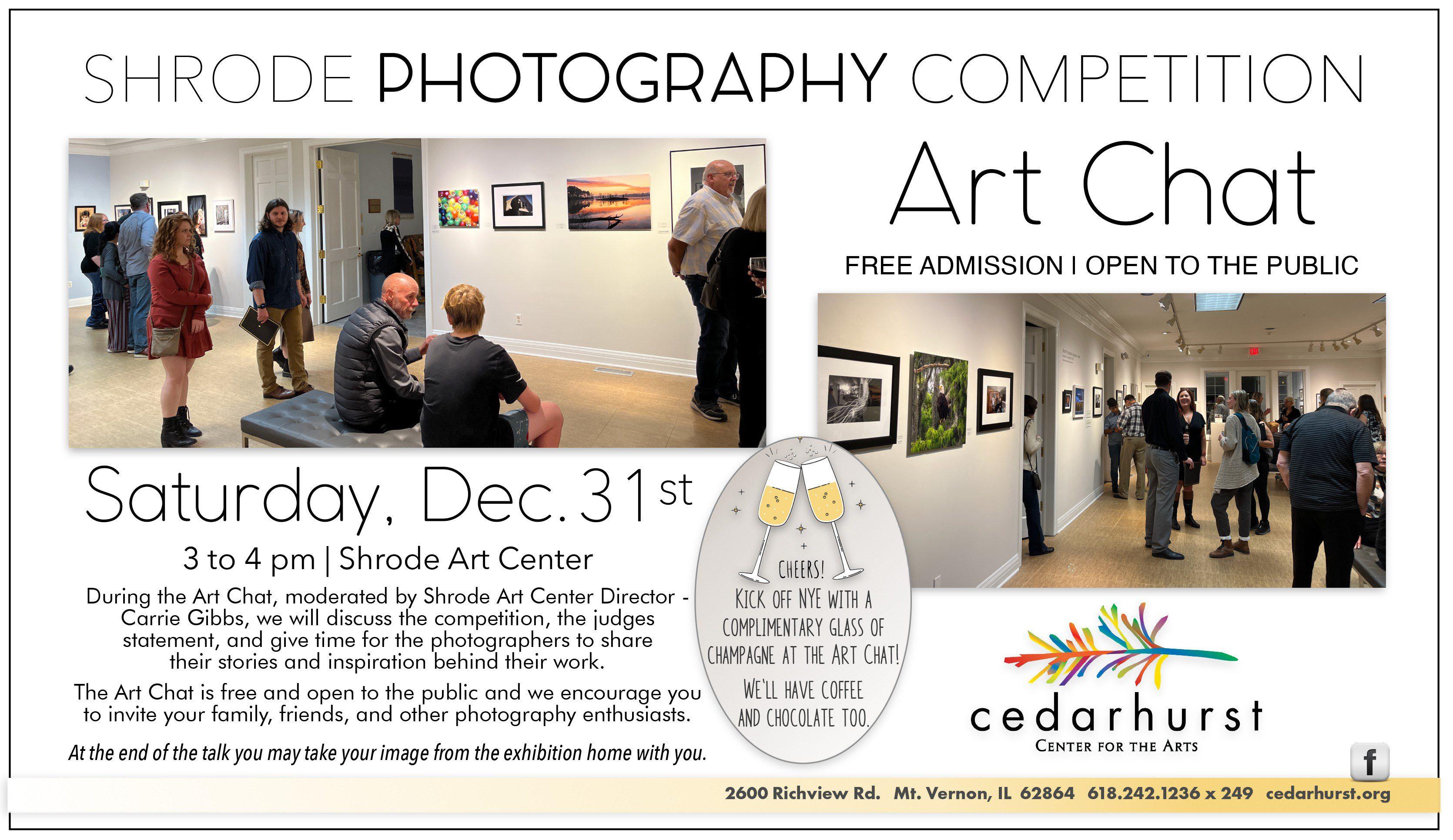 About the Exhibit:
The Shrode Photography Competition and Exhibition is a juried competition open to artists 18 years of age and older living in southern Illinois south of Interstate 70, including Charleston, IL. Eligible media accepted included photography created with photographic film, and digital images.
199 photographs were entered in this year's competition from 45 different artists, representing 21 southern Illinois communities! 38 works were accepted representing 29 artists. We are delighted that so many people in the region are involved in the art of photography and that we are able to offer this challenge.
Awards include cash prizes for Best of Show, 1st Place, 2nd Place, 3rd Place and Honorable Mention Certificates.

View the Photo Gallery on Facebook
2022 SHRODE PHOTOGRAPHY COMPETITION
JUDGE'S BIO – JEFFREY A. WOLIN
Jeffrey A. Wolin is Ruth N. Halls Professor Emeritus of Photography at Indiana University. Wolin's photographs have been exhibited in over 100 exhibitions in the US and Europe, including solo shows at the Art Institute of Chicago, International Center of Photography in New York, George Eastman Museum in Rochester and the Museum of Contemporary Photography in Chicago and group exhibitions at MoMA, Whitney Museum, and LA County Museum of Art.
His photographs are in the permanent collections of numerous museums including the Metropolitan Museum of Art, New York; Los Angeles County Museum of Art; San Francisco Museum of Modern Art; Nelson-Atkins Museum of Art, Kansas City; Cleveland Museum of Art; Houston Museum of Fine Arts; Art Institute of Chicago; New York Public Library; George Eastman Museum, Rochester; Whitney Museum of American Art, New York; Bibliotèque Nationale de France, Paris; and Museum of Modern Art, New York.
Wolin's work is included in dozens of books including six monographs: Written in Memory: Portraits of the Holocaust, Chronicle Books, San Francisco; Inconvenient Stories: Vietnam War Veterans, Umbrage Editions, New York; Pigeon Hill: Then & Now, Kehrer Verlag, Heidelberg & Berlin; Faces of Homelessness, Kehrer Verlag, Heidelberg. Other publications include Swimmers, Aperture, New York; Waterproof, Editions Stemmle, Zurich; An American Century of Photography, Abrams, New York; Searching for Memory, Basic Books, New York; Common Ground, Merrell, London & New York; and Mémoire des Camps, Editions Marval, Paris.
Wolin is the recipient of two Visual Artist Fellowships from the National Endowment for the Arts and a Guggenheim Fellowship.