Cedarhurst is what it is today because of the extraordinary generosity of numerous individuals. Founders John and Eleanor Mitchell believed that art and knowledge benefited everyone. That's why they established the Mitchell Foundation to build the Mitchell Museum and become a source of "education and enjoyment" from the arts.
Since then, numerous other donors have come forward with extraordinary gifts, creating their own legacies at Cedarhurst and inspiring future generations through the arts.
John R. and Eleanor R. Mitchell - A lasting legacy of Arts for All
An extraordinary personal art collection was the reason John and Eleanor Mitchell planned a museum in rural southern Illinois. The museum was built to house the couple's collection of late 19th and early 20th century American paintings and artifacts. The significant collection included works from their friend and fellow collector John Parish, of Centralia. The Mitchells acquired their artwork over three decades, the result of suave business practices, luck, and adventurous exploration. In 1965, they established the Mitchell Foundation to build the Mitchell Museum at Cedarhurst and create an institution that would continue to evolve into the premier art and cultural facility in southern Illinois. The Mitchell Museum opened in 1973 to enrich the lives of southern Illinois residents. Both John and Eleanor died before the museum was completed, but their legacy lives on, bringing the arts to life for all people who visit this unique oasis of art and nature that is Cedarhurst Center for the Arts.
A CLASSIC LOVE STORY
Eleanor Rebecca Fuhr was born in 1903, the daughter of a prominent engineering family in Macomb, IL. Eleanor studied at Western Illinois Teachers College and always had an adventurous spirit. At age 11, Eleanor considered her .22 rifle "her most prized possession." Born in 1905 in Olney, IL, John Russell Mitchell came from a pioneering family. He studied at the University of Illinois, hoping to grow into the large shoes that his ancestors had left him to fill. John and Eleanor met in Mt. Vernon in 1929. She was hired to teach art and physical education at Mt. Vernon High School. He had relocated from his job at a St. Louis financial institution to help his parents run their family furniture store. John and Eleanor's first date was a shooting challenge that set the tone for their entire relationship. The couple married after a two-year courtship and applied their adventurous spirit to both business ventures and travels. They became one of the wealthiest, well-known, and well-traveled families in the area.
BUSINESS SENSE
The furniture store John started with his parents grew to include three stores in southern Illinois. The couple started the radio station WMIX, acquiring the first FM station in the area. It had the highest radio tower outside Chicago and had receivers placed throughout Mt. Vernon, including one at the Granada Theater for the motion picture audience. With other partners, John established the Security Bank and Trust Company, which later became Bank of America. But perhaps their biggest stroke of luck came when John received a tip about oil production in the area. He began buying oil wells and collecting royalties on underground mineral rights. In 1940, the couple had the fastest producing oil well in Illinois. Fearless Expeditions The Mitchells satisfied their sense of adventure with journeys all over the world. They rode elephants in India and hunted them on African safaris. They skied the Colorado Rockies and climbed the Swiss Alps. The Mitchells loved adventure and challenges.
COLLECTING ART
The Mitchells began collecting fine art and artifacts on their travels abroad and engaged several dealers in New York to purchase art for them. Some say it was Eleanor who convinced John to start collecting as an investment. Others say it was friend John Parish, from Centralia, who also collected and later donated his acquired works to the Mitchell Foundation. Either way, the Mitchells knew what they liked: American painters with a cosmopolitan flare, painters who had either trained in Europe or spent large spans of their career there, but were Americans nonetheless. Together John and Eleanor built a collection that would become the basis for building the Mitchell Museum.
CEDARHURST TODAY
In the past 50 years, Cedarhurst has grown into a cultural mecca spread over 90 acres. The original two-room museum has expanded into a 33,000-square-foot cultural center with four galleries (one of which exhibits works from the Mitchell collection), an interactive family learning center, and acoustically sound performance hall. The campus is also home to the Shrode Art Center, which includes a gallery, classrooms, and studio space; the historic Mitchell Home and Schweinfurth House, used for special events and meetings; and the Goldman-Kuenz Sculpture Park, which boasts one of the finest outdoor contemporary sculpture collections in the U.S. The Mitchells' legacy is one to be celebrated and enjoyed by all who visit southern Illinois.
Marejon Sue Shrode - Fostering a community for regional artists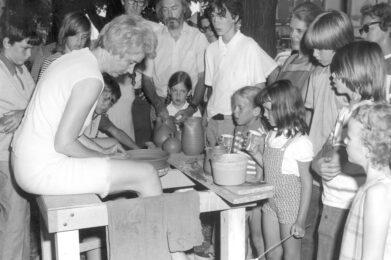 Marejon Sue Shrode lived through the arts. And the legacy she created with the Shrode Art Center at Cedarhurst now encourages others to do the same.
"Sue had many artistic chapters to her life. She understood how to build an artistic community and thrived off those relationships. That's what Sue has created in the Shrode Art Center at Cedarhurst, and for that we will be forever grateful," says Carrie Gibbs, Director of the Shrode Art Center.
Sue was raised in St. Louis, but she always had strong connections to Mt. Vernon. She was born in the small town, and Sue's family owned a farm here. She spent most of her summers in Mt. Vernon, playing alongside her cousins and developing an affinity for the simplicity of southern Illinois living.
Sue showed an interest in art from a young age. She attended Bennett College in Millbrook, NY, and graduated in 1944. Shortly thereafter, she and her mother moved to California where she would immerse herself in the studio pottery movement – a major historical moment in the history of U.S. art and one of many revolutions that began to unfold across the U.S. following World War II.
Throughout the 1940s and into the 1960s, Sue corresponded and studied with some of the premier potters of our time: Bernard Leach, Shoji Hamada, Marguerite Wildenhain, and Peter Voulkos, to name a few. Sue and good friend Jane Heald became known as southern California's "Potters of the Palisades." Together they studied, learned, and honed their incredible talents.
Sue returned to Mt. Vernon as a full-time resident in 1964 – after living, working, selling her pottery, and exhibiting her art for 18 years in southern California. She had mastered the craft and philosophies of traditional pottery and new impressionism exceedingly well.
Still, Sue was incredibly humble about her talents and time in California. It wasn't until Cedarhurst presented a retrospective in 2018 that we learned the extent of Sue's professionalism and trail-blazing career.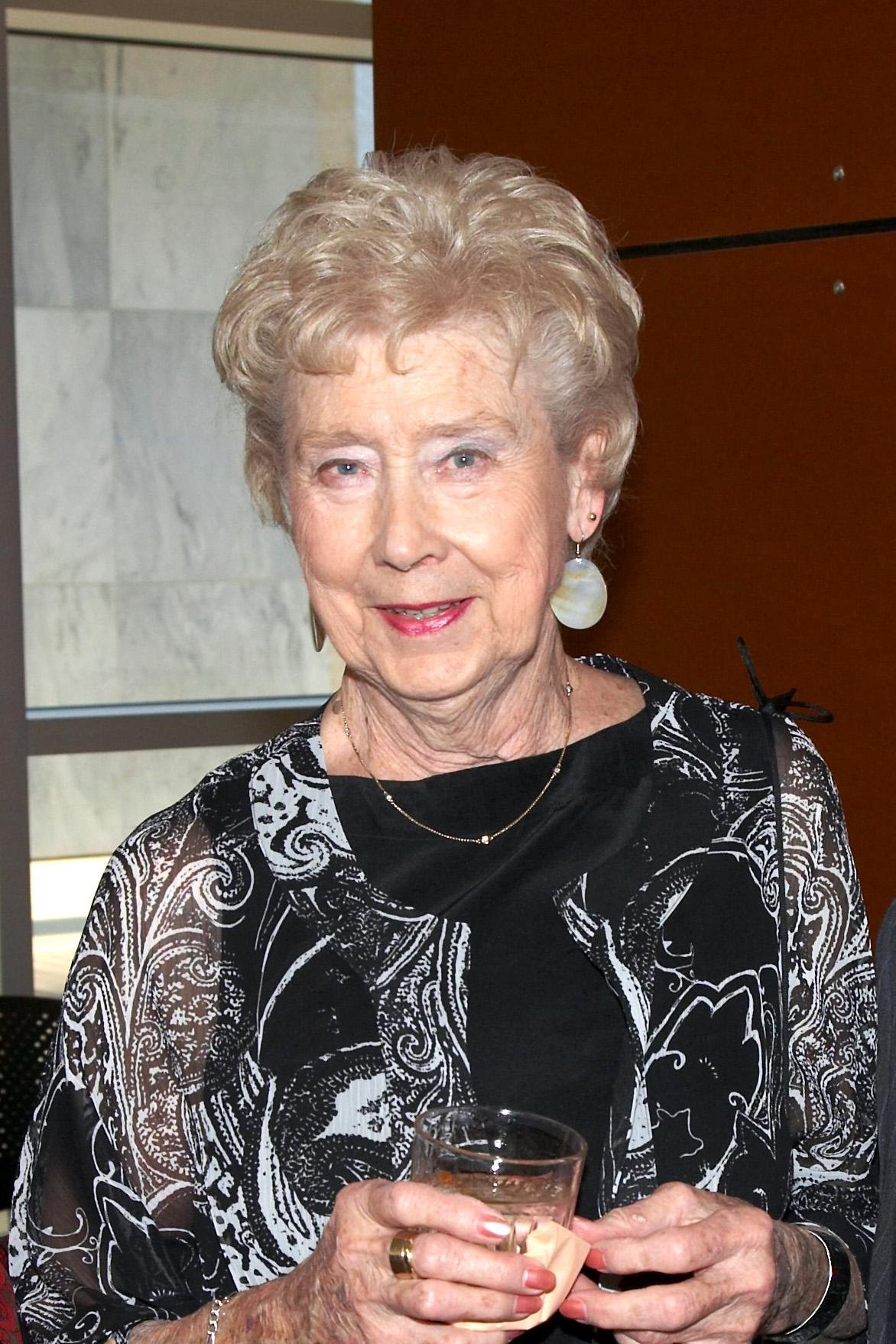 Her adult life in Mt. Vernon remained focused on art. She created – with clay and then later moving on to various other art forms such as weaving, jewelry making, and glass fusing. She taught – sharing her techniques and passion to help inspire other art-making. And she mentored – building affinity for the arts and nurturing relationships centered around creating.
Sue witnessed the establishment of the Mitchell Museum in 1973. She was a founding Administrative Counselor and a faithful patron and supporter, watching it grow and evolve to meet the needs of local artists and the community. Then in 2006, when Cedarhurst launched the Arts for All capital campaign that would transform the campus, Sue came forward with a remarkable $1 million gift.
"I couldn't believe it when we went to visit Sue and ask for a campaign gift, and then she asked if she could give more," said Sharon Bradham, former Executive Director of Cedarhurst. "Sue had such a generous heart, and I will always remember that about her."
Sue gave half of her $1 million pledge up front through gifts of stock and worked with Cedarhurst to set up an annuity agreement that would guarantee quarterly income payments for the remainder of her life. The second $500,000 was received as a bequest from Sue's estate after she died in 2017.
"Sue maintained a creative spirit and excitement throughout her entire life," Gibbs says. "Her educational spirit of sharing the arts with everyone, in a quiet and humble way, is truly inspirational, and I hope people will tell her story with pride.
The Shrode Art Center at Cedarhurst continues to thrive with energy and nurture the creative talents of all ages, a true homage to Sue.
Carl Lincoln Schweinfurth - Making a place for music and culture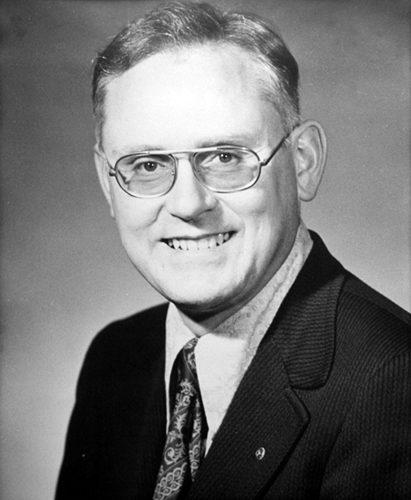 Carl Lincoln Schweinfurth was born and raised in Mt. Vernon and was well known as a philanthropist, educator, and world traveler. His gifts to Cedarhurst were many and we remember him as an extraordinary volunteer, a generous donor, and a musical legacy.
Schweinfurth served in the US Army during the Korean War and upon his return to the Midwest, he earned his doctorate degree from Southern Illinois University – Carbondale. Schweinfurth taught history and political science for more than 20 years at Bethany College, West Virginia, flying to Mt. Vernon on weekends where he maintained his primary residence.
Carl had strong ties to Cedarhurst and knew founders John and Eleanor Mitchell personally. He was a founding Administrative Counselor at Cedarhurst, serving from 1973-1980, then served on the Board of Trustees, a position he held until his death at age 65.
Carl's passion, above all, was classical music. One of Cedarhurst's first programs was the Chamber Music Series, started by Carl in October 1979. He championed the program, booking the series, always volunteering to transport musicians to and from the St. Louis Airport, and often hosting them at his own home before and after their performances. As an avid traveler, Carl relished the time and intimate conversation that was shared with the world-renowned musicians.
The chamber music series created a new level of cultural access and awareness for southern Illinois, and in 1995 Schweinfurth and several others made donations to the Foundation to establish a Chamber Music Fund to support future offerings.
"Carl was a visionary with intense conviction to make Mt. Vernon a destination and cultural center," said Sharon Bradham, former Executive Director at Cedarhurst.
Over the years, the Fund has evolved to a more general Performing Arts Fund, and the Chamber Music Series has evolved into the Cedarhurst Concert Series, featuring classical and world music, both presented in honor of Carl and his worldly endeavors. (He traveled to more than 160 countries during his lifetime.)
Carl was always giving, and finding unique ways to do it. In 1994 he built his Schweinfurth House with the intention that it would be left to the Mitchell Foundation, which operates Cedarhurst. The house is an architectural landmark and constructed in such a way to both house people and host quality performances: track lighting was installed to showcase performers; large open rooms would accommodate a crowd; and multiple restroom facilities ensured patron comfort.
Cedarhurst received the Schweinfurth House and property from the Carl Lincoln Schweinfurth estate in 1998, following his death on December 26, 1996.
The museum now hosts performing arts programs in the Performance Hall, part of the Mitchell Museum expansion added in 2008, however the Schweinfurth House is still utilized regularly. The open layout and amenities make the house appealing for meetings, rentals, and special events, and the separate living quarters are often used to house musicians and artists that are featured in museum programming.
Schweinfurth also left his art to the Mitchell Museum and established the Schweinfurth Foundation, which continues to support Cedarhurst and other cultural and educational endeavors in the Mt. Vernon area.
"He is an icon of generosity for our Mt. Vernon community, and Cedarhurst is a stronger organization because of Carl's generosity," says Executive Director Hillary Esser.
Bill and Barbara Beck - Making family time a priority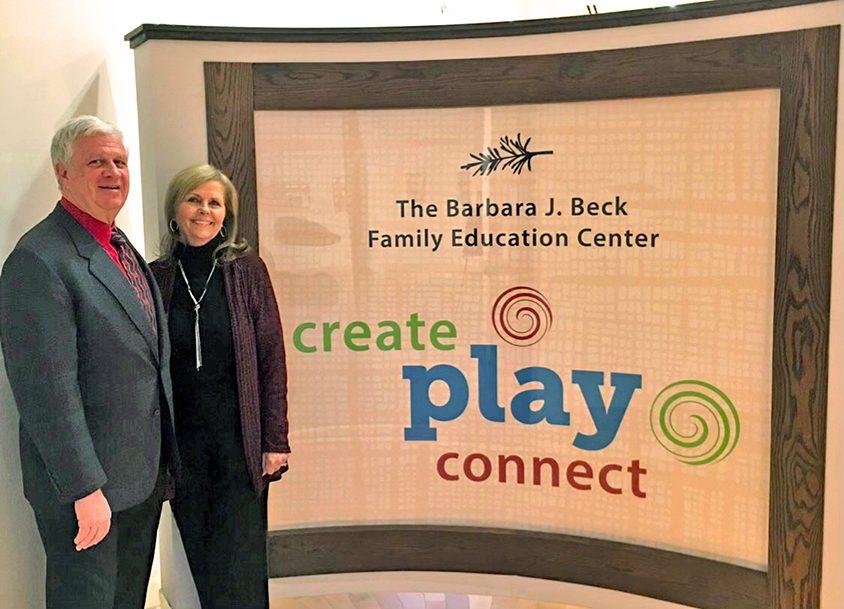 In southern Illinois, the Beck name is synonymous with generosity. And perhaps no place is that more evident than Cedarhurst, where the Beck Family Center and adjoining Beck Gallery function as one of the most well-loved and well-utilized spaces on the Cedarhurst campus.
"To have a space for families to visit – to play and to connect – is really one of the most coveted resources we have in this community. And that is thanks to Bill and Barb," says Hillary Esser, Executive Director at Cedarhurst. "Their commitment to this space and ideal is inspired by their commitment to their own family, and that is truly a beautiful thing."
In addition to raising their own family, which includes three children and six grandchildren, Bill and Barb both had prestigious careers dedicated to nurturing the next generation. Barb served 34 years as an elementary school teacher in Mt. Vernon City Schools District 80 – hundreds of students benefited from her instruction and care. Bill shepherded those children to school for 37 years through his ownership and management of Beck Bus Transportation Corporation. Under Bill's leadership, the company grew to become the largest bus contractor in southern Illinois, employing more than 300 employees and operating seven satellite locations.
In 2007 Bill sold Beck Bus Corporation, a move that proved financially beneficial to Bill and Barb. The timing was good for Cedarhurst, as well. Just one year prior, in 2006, Cedarhurst had launched the Arts for All capita campaign which would triple the size of the existing Mitchell Museum and renovate the rest of the campus. Dreams for the expansion included the addition of an interactive family learning center, which would boast hands-on education stations where families could come to learn through play. Bill and Barb brought that dream to fruition with a $250,000 gift.
"We have been very fortunate in our lives and with my business. And we feel good about being able to share some of that with Cedarhurst," Bill said.
After their campaign pledge was fulfilled, Bill and Barb continued their support of Cedarhurst, contributing each year to the museum's Annual Program Fund to sponsor family learning and educational programs. And in 2016, they stepped up in another big way. After 10 years of loving wear in the family center, it became apparent the space needed a facelift. Bill and Barbara came forward with a lead gift, initiating a $125,000 campaign that would fund a family center makeover and refresh the space for another decade of childhood development. And they didn't stop there.
Most recently in 2019, Bill and Barb approached Cedarhurst about creating a long-term plan to care for the Beck Family Center.
"We knew we wanted to do something that would continue to benefit kids, and something more long-lasting that would benefit our community long after we're gone," Barb said. "Cedarhurst has always been a good fit."
The Becks' intentions and generosity led to the formation of the Friends of the Beck Family Center Fund. They continue to build the corpus of the fund with annual gifts, which are placed into an account and invested alongside the Mitchell Foundation portfolio. Earnings accrue each year so that when the time comes for another family center makeover, there will already be funds set aside. The Fund seeks to ensure the family center space will remain fresh and inviting for future generations.
"The Becks have invested heavily in Cedarhurst, and we will forever be grateful for the legacy that they have created here," Esser says. "The Beck Family Center is an educational anchor within our community, and its impact within our community has only begun to be seen."
Cedarhurst encourages others to invest in the Friends of the Beck Family Center Fund and join Bill and Barb as they prioritize family time and nurture childhood development through play.
Jack and Joan Goldman - An artful legacy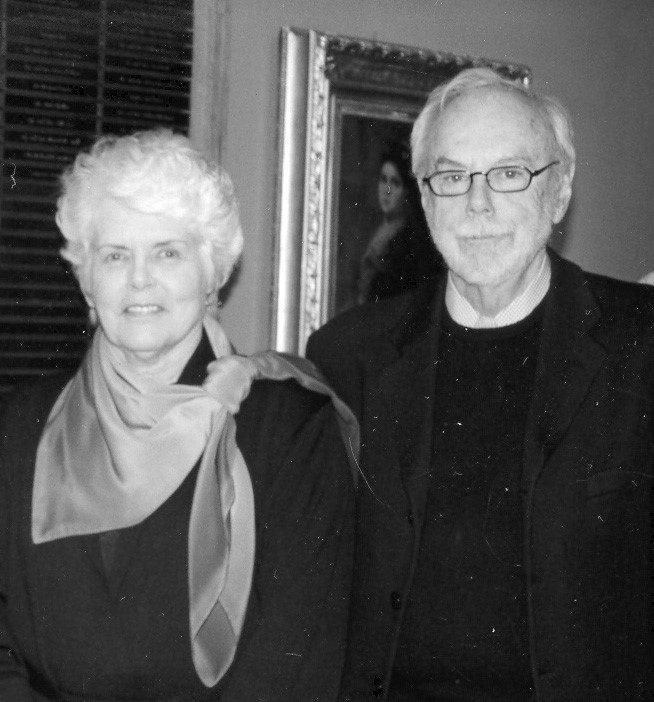 Jack and Joan were involved with Cedarhurst even before the Mitchell Museum opened in 1973. FGM Architecture (the "G" stands for Goldman) was the firm tasked with designing the museum, and Jack took much pride in helping to design such a unique facility for southern Illinois.
Jack was a Founding Administrative Counselor, but his dedication lasted long beyond his 10-year volunteer term. It lasted a lifetime, and Joan was every bit as dedicated. Jack and Joan contributed to Cedarhurst in every imaginable way: time, talents, influence, financial support, and perhaps most interesting – donations of artwork.
Joan's background as an educator made her a great organizer of events, and an even greater docent. She could give a tour to art-smart people and also to children and adults who had no previous knowledge – or even interest – in the arts. The couple served on the social committee, were active members of the Collectors Club, and Joan served as a First Impressionist, welcoming visitors to the museum. They always put forward a wonderful, welcoming impression for the museum.
Still, perhaps the most meaningful gift the Goldmans have given to the museum is through their purchase of artwork for the Cedarhurst collections.
"We've always given in the now so that we can enjoy our gifts, too," says Joan. "Jack and I have loved being a part of Cedarhurst and watching it grow and develop. We're proud to be such a part of it, and proud of the impact it has for the people of southern Illinois."
Over the years Jack and Joan donated or influenced the purchase of 25 sculptures for the Cedarhurst grounds, now appropriately named the Goldman-Kuenz Sculpture Park. In truth, the park would likely never have been developed if it were not for this very special couple.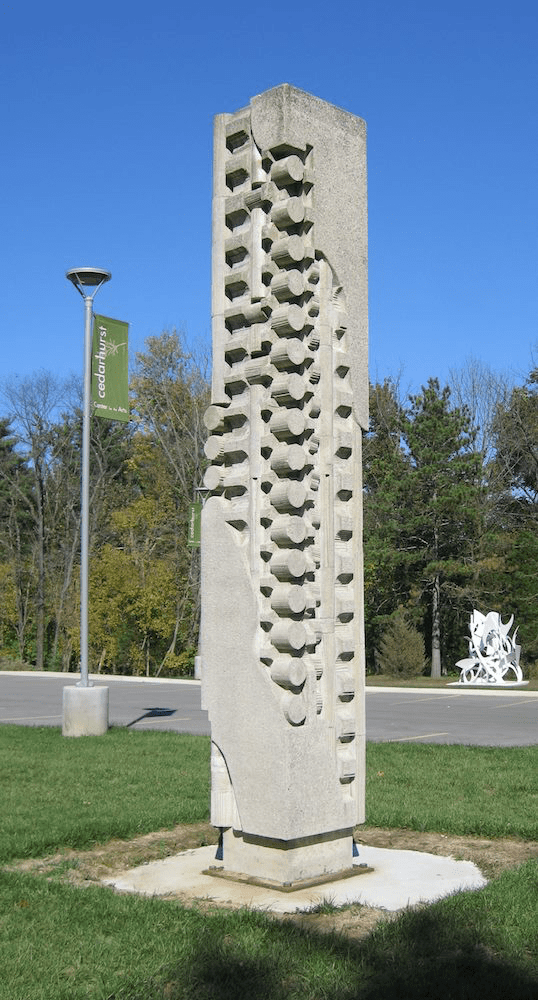 "The sculpture park was Jack's vision. It was his baby," says Sharon Bradham, former Executive Director.
Jack was the first chair of the sculpture park committee when it was created in 1981, and he was instrumental in commissioning a site-specific sculpture for the museum's 10-year anniversary in 1983. Cedarhurst 1, by Robert Youngman, is the first sculpture people see when they arrive on the Cedarhurst campus, and at the time it signified the start of a new focus for Cedarhurst.
In the early 1990s, Cedarhurst Curator Bonnie Speed and Jack made the sculpture park a priority. Under their direction and pursuit, 20 new sculptures were added to the Cedarhurst grounds in the early 1990s, and an official sculpture park opening was held in 1995.
In the early days, Cedarhurst would acquire sculpture through a loan program from a show held at Navy Pier. Jack (and often times Joan) would make the trip to Chicago, or anywhere else they needed to go, in order to select and negotiate for the best artworks. When the sculpture arrived on campus, Jack would be there to place it. The couple often entertained artists in their home, which helped shape the museum's reputation of great hospitality. They built relationships with artists, and those relationships were invaluable to the growth and reputation of Cedarhurst.
"There is no part of the sculpture park that Jack and Joan haven't touched or influenced," says Executive Director Hillary Esser. "Even today, when we talk about new artworks or changes in the park, we always ask ourselves what Jack and Joan would think. We continually strive to make them proud."
One of their last joint pursuits was the selection and purchase for Cedarhurst of two Dango sculptures by world-renowned artist Jun Kaneko. Joan traveled to Omaha, Nebraska with a small group from Cedarhurst to hand-pick the artworks.
"The intention was to purchase one," says Joan. "But when we got there we realized there needed to be two so the pieces could relate to one another. It's what was going to look best at the museum."
"What's best for the museum" was always top of mind for Jack and Joan, and Cedarhurst is grateful for their generosity.
The Dango sculptures were installed in August 2015; they sit prominently in the museum's east Courtyard, elevating the Cedarhurst collections and attracting the eye of all who walk through the Mitchell Museum Corridor. Jack died four months later, in December 2015.
Joan continues to support Cedarhurst in many ways, and Cedarhurst will forever be proud to bear the Goldman name on our sculpture park.
George and Paula Kuhn - Ensuring the future of arts education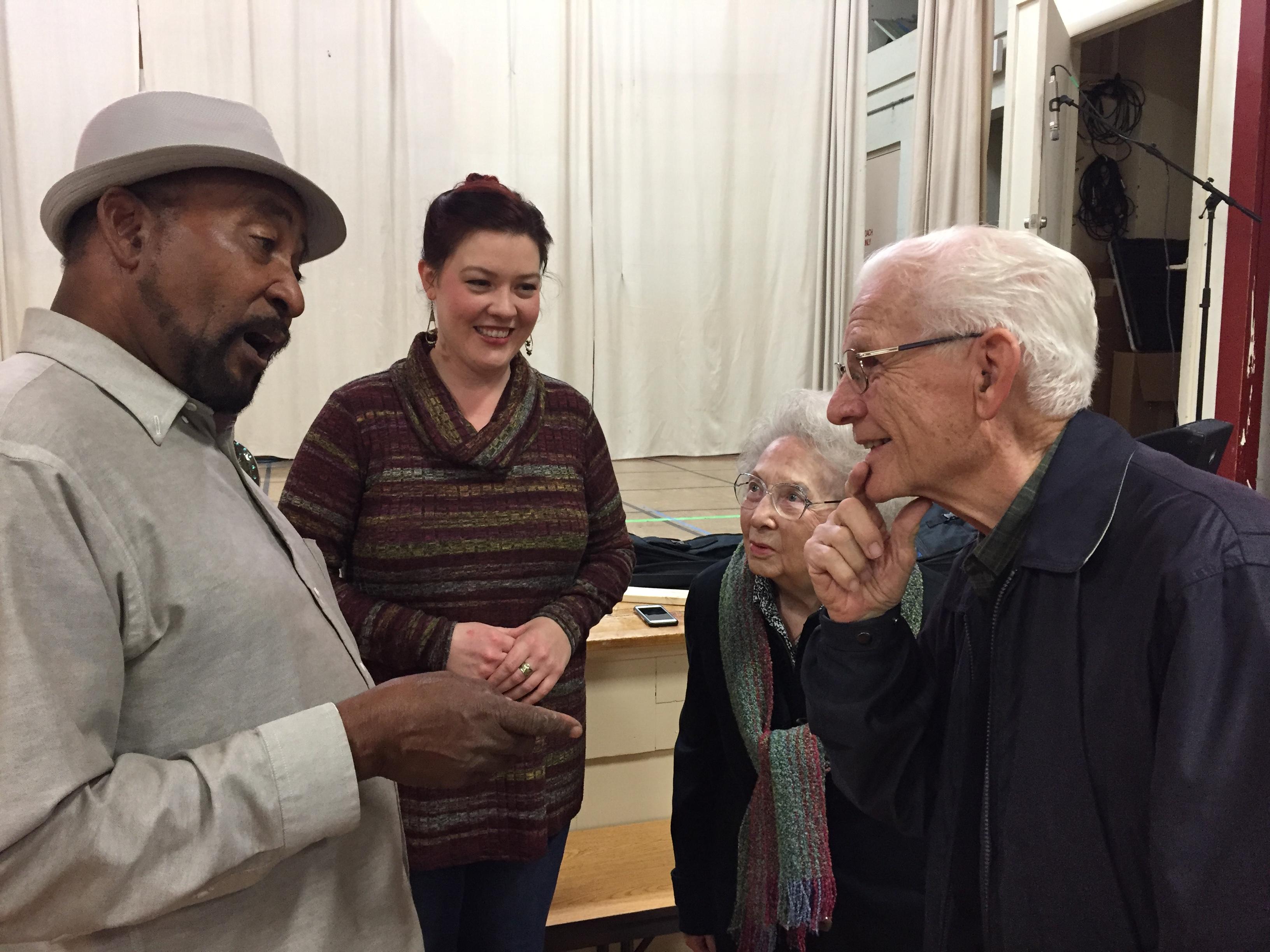 George J. Kuhn and Paula (Mace) Kuhn are champions of art education at Cedarhurst. "We have a distinct interest in Cedarhurst and specifically their education programs," Paula says. "I'm a lifelong resident of Jefferson County and have seen the museum develop. It's a wonderful thing to have for the people – and especially the children – in southern Illinois."
Paula's initial education came from lessons in a one-room schoolhouse in Jefferson County. She graduated from Mt. Vernon Township High School in 1946 and shortly thereafter commenced a career in business administration in Mt. Vernon. In addition to being a longtime employee with a local law firm, Paula was also owner of an oil company, operating oil leases and specializing in lease acquisition for independent producers in southern Illinois. Although now retired, Paula continues to maintain offices in Mt. Vernon.
George had more extensive educational opportunities than Paula, graduating through the Okawville school system in the 1940s, but still there were no classes devoted to art and music. George pursued college to become an educator, and he had a 23-year career as a school administrator in southern Illinois. Working in the schools taught George just how important the arts are in delivering a well-rounded education, and it also gave him proper perspective, one that is shared by many other southern Illinois educators.
"Every student comes to the classroom with a different world experience. Research shows that students who have been exposed to many different things do better in school and life…" says Stasey Rightnowar, a teacher at Spring Garden School who brings her class to Cedarhurst for a field trip each year. "Cedarhurst provides these learning opportunities; each experience solidifies learning and supports important academic concepts."
Smaller school systems, especially, have very limited budgets that can make it difficult to allocate resource to hire art and music instructors. But with the help of donors like George and Paula, Cedarhurst helps to fill that void.
In 2013, George and Paula made a financial pledge and initial gift to establish the Friends of Education Fund and ensure the museum's educational programs will continue. From school tours and live performances to student exhibitions and an ArtReach program that takes hands-on lessons into area schools, the program offerings are many, and they serve the 42 southernmost counties of Illinois.
"At no other place can you find this level of skill and this many varieties of fine art presentations made affordable, and in close range for travel," says Leslie Small, a fifth grade teacher in DuQuoin District 300. "Every day we visit is well spent and fuels the curiosity of our students."
Cedarhurst is grateful to George and Paula for establishing the Friends of Education Fund for Cedarhurst. They build the corpus of the Fund with annual gifts, which are placed into an account and invested alongside the Mitchell Foundation portfolio. A portion of the earnings are used each year to help Cedarhurst present a variety of educational programs for southern Illinois.
Cedarhurst encourages others to invest in the Friends of Education Fund and join George and Paula as they champion arts education for the children in southern Illinois.